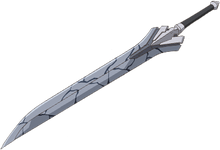 The Percival series (パーシヴァルシリーズ, Paashivaru Shiriizu) is the name denoted to a series of mass produced Carillons meant to be used by Quasi-Braves. It was the weapon that Willem Kmetsch once favored, before he became unable to fight.
Background
Edit
Percival was originally created to be a mass production type Carillon for Quasi-Braves to use. It was an advanced upgrade model that was created based on the Dindolan prototype series. In terms of power, Percivals were significantly weaker than most of the unique Carillons like 'Seniorious.' Their power is dependent on the Quasi Brave's abilities and were created to take the enemy's power and use it against them. However, when used in the right hands, they could take down a Poteau. Willem Kmetsch used dozens of these swords to take down Ebon Candle during the final battle of the human's war against the Poteau.
Physical Composition
Edit
Percival is a long katana-based sword that is comprised of multiple shining talismans. When combined, the talismans on the sword glow a whitish blue when activated with Venenum. In the hands of a Legal Brave, it can unleash devastating white-blue blasts, however, its power can't compare to unique swords like Seniorious.
Special Abilities
Edit
Known Wielders of Percival
Edit
Unnamed Quasi Braves
Willem Kmetsch - The last surviving Emnetwiht who can still wield these blades.
Known Victims of Percival
Edit
References
Edit